Best Woman Professional (Early Career)
1. Winner- Saakshi Dhanekar
Saakshi is an Assistant Professor (Grade 1) with the Department of Electrical Engineering, IIT Jodhpur. She works in the development of gas- and biosensors based on nanomaterials, heterostructures and MEMS. Prior to joining IIT Jodhpur, she had worked as SERB Research Scientist and INSPIRE Faculty at Centre for Biomedical Engineering and Centre for Applied Research in Electronics (CARE), IIT Delhi respectively from 2013-2019.In addition to teaching, she has two ongoing Govt. sponsored projects through which she is developing indigenous sensors to be used in AI and IoT applications. Currently, she has 6 PhD students under her supervision and 2 patents to her credit. She has published several research articles and conference proceedings in the past few years. Her current research area includes MEMS, nano silicon, metal oxides-based gasand biosensors for societal applications with application in AI and IoT.
The prize money holds a lot of value for her. As the Chair for the IEEE Sensors Council Young Professionals and wellbeing committee, and WIE member, she would like to utilize this award money to help the young population and women by promoting technical education amongst the students. It will be utilized for the implementation of webinars/seminars for industry, projects focusing on technical, humanitarian and outreach aims and providing students with hands-on experience on sensor boards.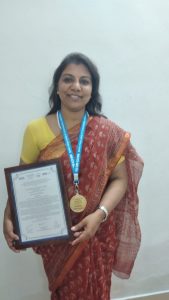 2. Runner Up- Neethu George
A power systems researcher with Hitachi Energy Technology Services Private Ltd., Neethu works in the broad area of power system protection, monitoring and analytics, especially for upcoming grids with increased contribution of renewable energy sources. She is also engaged in identification of new research problems through discussions with the R&D team, customers and fellow researchers and eventually, developing innovative solutions for the identified problems, which can be practically implemented and delivered to end customer successfully. Neethu is also involved in exploration and utilization of various tools, including most advanced and futuristic technologies, in collaboration with a global team of researchers for most successful outcomes. Beyond her research work, she is also committed to disseminating knowledge through conferences, workshops and publications.  She also works toward Creating Intellectual Property as part of her work.
Neethu's contributions in power system protection research area, mainly for grids with renewable energy resources, facilitates India's journey towards the goal of cleaner, greener, and sustainable future.Being a devoted mother, a passionate scientist, and an active contributor to empowerment of girls and women in society, winning this award is a great motivation for her to take forward the vision of this award and use the prize money for future activities empowering women, especially underprivileged girl students.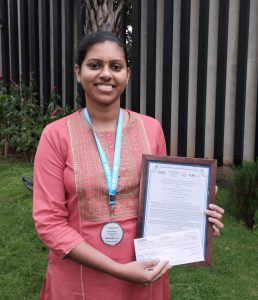 Best Outgoing Student
1. Winner- Shatakshi Singh Tomar
Shatakshi is a final yearstudent pursuing her B.Tech in Computer Science and Engineering from Mody University of Science and Technology, Rajasthan. Apart from hercurriculum, she has a few research papers that have been published in reputed journals and conferences to her credit. As an active IEEE volunteershe volunteered with various IEEE Communities across the region including IEEE Delhi Section, IEEE India Council, and currently, is the chairperson of IEEE Student Branch, Mody University of Science and Technology.Shatakshi has many accolades to her credit.  She won the SoftTech Hack 2020, received a cash prize for paper presentation given by Computer Society of India,  was the runner-up at Ideathon 2020, won the first position at a 6-day Code Coding contest and others.  She has also received the Richard E. Merwin Student Scholarship and is the mentor at her University's Chess Club.
With keen interest to pursue her research, Shatakshi eventually plans to be an entrepreneur.  She aspires to develop economical and affordable Artificial Intelligence-powered diagnoses for diseases like diabetes and cancer as most of her current research is in the similar domain including her internship in the R&D department at a US Based Healthcare startup. She would like to use part of the award money to develop projects that are based on her research ideas while also pursuing her higher studies.
Some part of the prize money will be utilised to develop the projects based on the ideas I have worked on till now and to pursue my higher education. This Award is a motivation and catalyst to help her achieve her goals while contributing to society for social and economic development.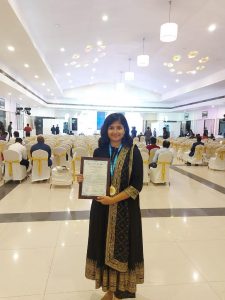 2. Runner Up- Nupur Kulkarni "
With excellent academic record throughout her education, Nupur is currently pursuing her B.E. under the Savitribai Phule Pune University.  She has been a University Rank holder for merit in academics for two consecutive years. An active student even beyond academics, Nupur has won honours like being one of the finalists at Technology Infusion Grand Challenge 2021 organized by La Trobe University, Australia.  She was also the winner of the Smart India hackathon (SIH) 2020 for the problem statement proposed by DTE towards IT and Cyber Security – Captcha for Visually Impaired.
Nupur has authored a research paper on Doodling Based Captcha Authentication System and has more papers in the pipeline to be presented at conferences.  She has also authored a chapter in a book "BlockChain for Smart Systems: Computing Technologies and Applications" which will be published soon.  Nupur is also actively involved in cultural activities like singing, writing plays and essays which have all won her different awards.
She lies to delve deeper into understanding diverse domains and would like to pursue her research.  She aims to make use of her technical knowledge got through research to impact the lives of people positively.  Nupur would like to utilize the prize money to pay towards her higher education as well as invest some into new projects that she has in mind.  Being an avid reader, she would also like to buy books to add to her collection.