WINNERS OF SHRI PRALHAD P CHHABRIA AWARDS 2019 INSTITUTED BY HOPE FOUNDATION AND RESEARCH CENTRE IN ASSOCIATION WITH IEEE INDIA COUNCIL, WIE AFFINITY GROUP, IEEE PUNE SECTION ARE:
1. BEST OUTGOING FEMALE STUDENT – MS. SHUBHI SAREEN
Ms Shubi Sareen, Final Year Student studying B.Tech Computer Engineering at Delhi Technical University. She has always been an ace student with top scores through her entire academic. She holds the First Rank at the departmental level with an aggregate CGPA of 9.82. Keen to learn and apply her skills, she has organized as well as actively participated in various academic and co –curricular activities. She is the Co-Founder and Chapter Head of Delhi Women in Machine Learning and Data Sciences. Shubhi has worked on different research projects and is highly appreciated by her professor for her ability to tackle complexities and pressure. She has been appreciated by her mentors at the internship at Google and extended a full time offer to join Google as a Software Engineer.
Beyond Academics, Shubhi has worked towards helping students through The Mentorship Program that allowed students to be paired with leaders in the field to enhance their professional development. She also took on the role as mentor under the Project WIE Stand Initiative of IEEE WIE, Delhi Section and mentoring a female programmer in Machine Learning under the initiative of Learn IT Girl!
Having won this prestigious Award, Shubhi would like to invest a part of this amount in her education and utilize the remaining amount to promote mentorship programs as well as dedicate a part of the money to chapters like Women Who Code – a platform that helped her grow and network during her undergrad. Her aim is to work together towards closing the gender gap in technology.
Congratulations Shubhi!!
Wish you all the best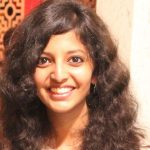 2. BEST WOMAN PROFESSIONAL – DR. RAJLAXMI CHOUHAN
Dr. Rajlaxmi Chouhan received her PhD in August 2015 from the Department of Electronics and Electrical Communication Engineering at the Indian Institute of Technology Kharagpur (India) under the guidance of Prof. Prabir Kumar Biswas. She is currently an Assistant Professor in the Department of Electrical Engineering at Indian Institute of Technology (IIT) Jodhpur. Her research interests include image processing, image quality assessment and noise-aided image denoising. During her Masters at IIITDM Jabalpur, Dr. Chouhan worked on noise-enhanced image enhancement and watermarking for image security for which she was awarded the the National Award for Best M.Tech. Thesis in Electronics and Electrical Engineering in 2012 by Indian Society of Technical Education, New Delhi. Her current research on image quality assessment aims to quantify naturalness of an image and to develop online image tamper detection systems that potentially block spreading of misinformation online. In 2017, she received a research grant under the Early Career Research Award from DST, Government of India for research on noise-aided edge-preserving image denoising. She has published twenty-seven papers in international conferences and journals, and is currently supervising two doctoral students.
Dr. Chouhan serves as the Faculty Advisor of the Student Science and Technology Society of IIT Jodhpur, and as a Campus Mentor to twenty UG students. She also serves as the Branch Counselor of IEEE Student Branch and WIE Affinity Group of IIT Jodhpur where she, along with her student team, has been pursuing the preuniversity outreach program of IEEE (called STAR) towards social contribution in local schools of Jodhpur to encourage young girls to take up careers in science, technology, engineering, and mathematics. Over the past few years, she has been conducting workshop series on technical writing to train students in formal and research communication. This also includes special lectures for students from vernacular medium. She also prepares academic video lectures (as additional resources for Basic Electronics and Signals & Systems) that are freely accessible online.
Carrying out her duties with full sincerity as an instructor, a researcher, and an IEEE WIE member, Rajlaxmi strives to continue this endeavour by promoting the technical community in Jodhpur. The prize money would be utilized for the successful execution of (i) humanitarian activities including the outreach program for local girls schools that have limited resources and facilities to encourage girls to take up science as a career option; (ii) a primary educational program for children of workers in and around Karwad village (Jodhpur). This prize money would be a great catalyst in her efforts.
Congratulations and continue the good work!
Wish you all the best.